Youkon King Salmon caught by fishing line/Head off -Top Premium Troll - Sushi - Sashimi Quality
Raw product directly deep-frozen on the boat, approx. 3 kg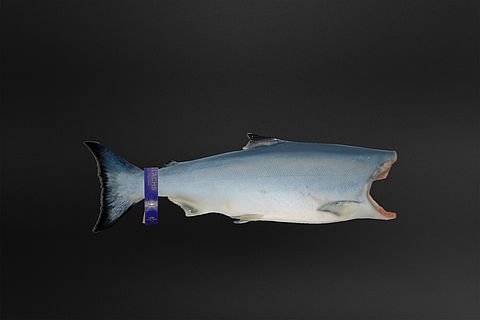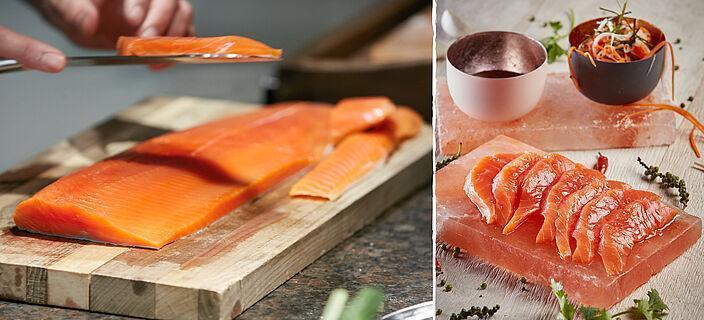 Article number:

4003

Weight:

1700 - 3000 g

Preparation:

deep-frozen

Category:

salmon

Country of origin:

Alaska
currently not available
Youkon King Salmon caught by fishing line/Head off -Top Premium Troll - Sushi - Sashimi Quality
Youkon king salmon/Head off
One off the best known wild salmons of Alaska is the YOUKON KING SALMON due to his top quality. He is caught by fishing line and is full off vital energy because of his natural habitat –the ocean. No other wild salmon is treated more carefully and cautious from its catch to his delivery as the Youkon king salmon.
The so called "Trollers" are small fisher boats with a one or two man crew. They fish with fishing lines and hooks on which natural or artificial baits are attached. The fisherman of the trollers have to catch every salmon out of the ocean one by one. It would be easier by net fishing where you get shoals of salmons at once. From all ways to catch fish the fishing line is the one with the smallest catch result but providing the highest quality of the fish.
The boat is moving at the same speed as the wild salmon is swimming. Immediately after the fish takes a bite, the fisherman seeks the line to his boot but lets the salmon swim in the water until he has calmed down and his lactic acid is converted back- this way we can reduce stress for the wild salmon. It´s very important for the taste, to bring the salmon gently into the boat.
The salmon-oil-content is higher with fishing line caught fish, especially the Omega-3 oils content. We want to catch wild salmons that are on the peak of their physical development.
Thus, the buyer will receive a brawny salmon, that contains the highest level of Omega-3 and other oils and that offers an extraordinary taste.
When being defrosted, the Youkon king wild salmon is biochemically never older than 2 hours after having been caught and shows no visible signs of having been frozen.
EVERTHING THAT EATS HEALTHY, IS HEALTHY.
Wild salmon contains 18 to 20 % of high-quality proteins, all essential amino acids, the vitamins A, B, D and E and highly unsaturated fatty acids, especially with a high level of omega-3-fatty acids, niacin, riboflavin, iron, zinc, phosphorus and magnesium.
Each gram pure nature!
(Price € 4,50 per 100 g / € 45,00 per 1000 g)