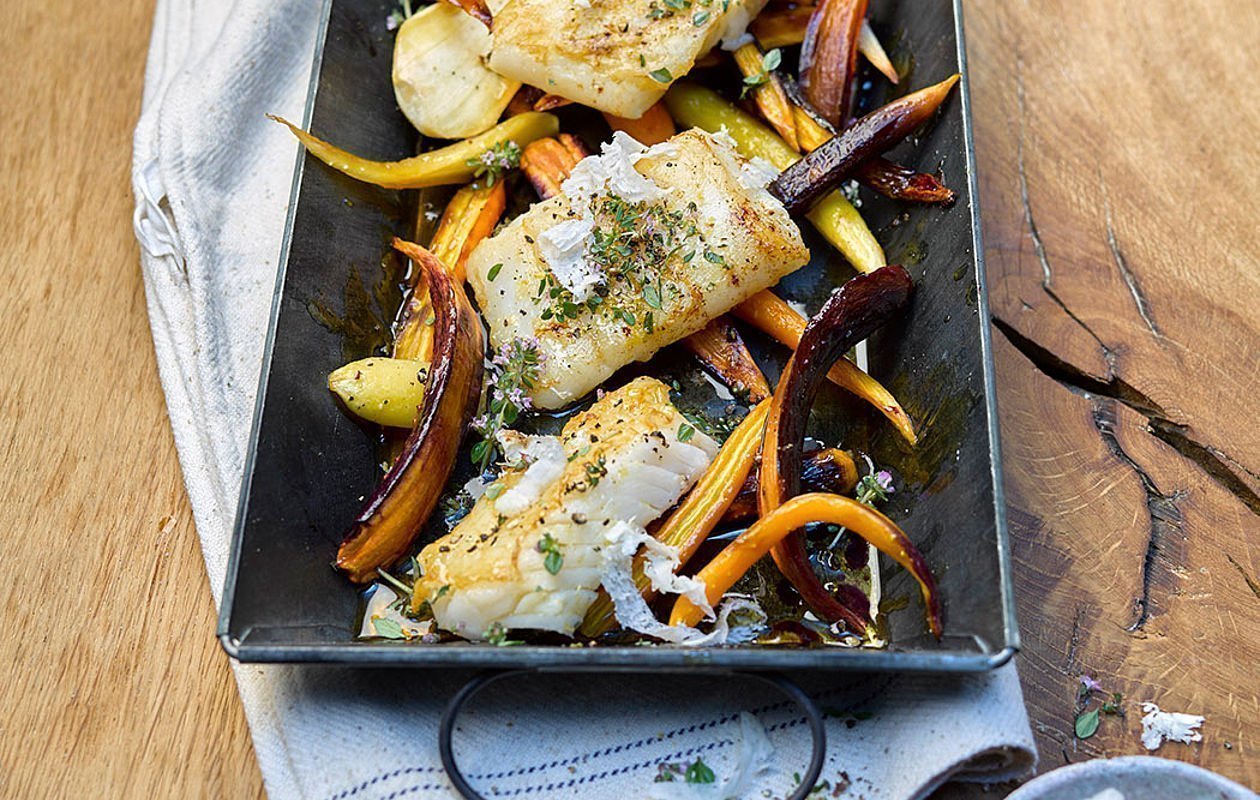 Grilled Alaska Codfish on oven-baked root vegetables
Codfish
Preparation: 60 min
Ingredients:
1.2 kg of different kind of root vegetables (z.B. carrots, parsnips, parsely root)
60 ml olive oil
40 g maple syrup, alternatively honey or agave syrup
salt
1 lemon, untreated
1/2 bunch of thyme
6 filets of alaska codfish à 125 g
20 ml olive oil
black pepper, freshly ground
50 g fresh horseradish
Preheat the oven to 200 °C/390°F (175 °C/350°F circulating air) and cover the baking tray with baking paper. Peel the vegetables, cut them into halves or quarters and distribute them on the baking tray. Drizzle 60 ml of olive oil and the maple syrup on top, salt it and back it for 35 minuten in the oven.
Scrub the lemon under hot water, dry it and grate the peel finely. Pick the thyme from the stalks and chop it. Rinse the fish filetes in cold water and dab them dry. Mix the lemon zest, the thyme and the olive oil together, coat the fish filetes with it and let it steep for 15 minutes. Right before serving, fry the codfish in a grilling pan for 2-3 minutes on each side and add salt and pepper.
Peel the horseradish, grate it finely and serve it together with the root vegetables and the codfish.

Nutritional information
Energy: 420 kcal/1760 kJ
Protein: 33 g
Carbohydrates: 23 g
Fat: 20 g