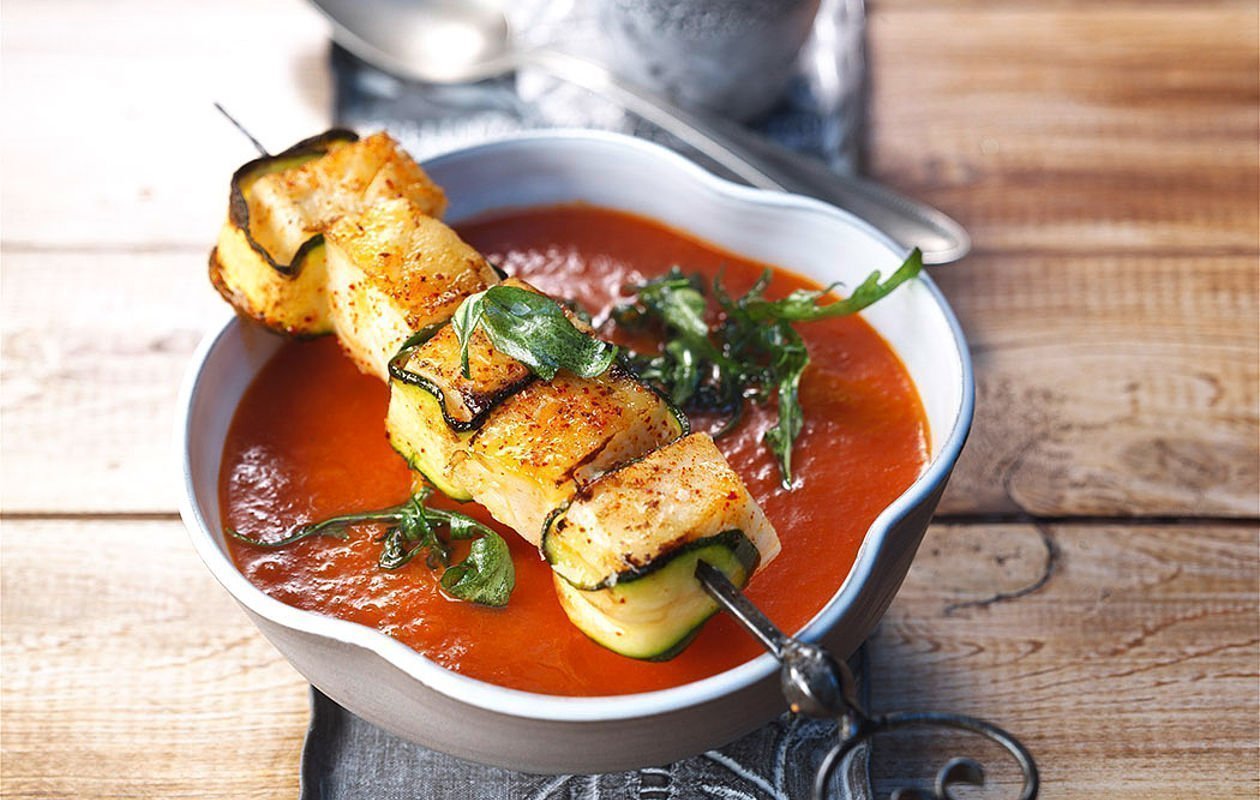 Alaska Codfish skewers on sweet pepper soup
Kabeljau
Preparation: 60 min
Ingredients soup:
1 kg sweet red pepper
150 g onion
1 fresh garlic clove
30 ml Oolive oil
20 g sugar
20 g
Preparation
For the soup preheat the oven on 250°C/480°F (240°/460°F circulating air). Roast the sweet pepper on aluminium foil in the oven until the skin beginns to get darker. Take the peppers out, wrap them in humid kitchen paper and let them cool down a bit. Peel of the skin, remove the seeds and chop it into small pieces.
Chop the onion and the garlic finely and briefly sweat in some olive oil until glassy. Add the sweet pepper, fry for a bit and glaze with sugar. Deglaze with wine and add the vegetable stock. Let it cook for 15min until soft. Puree all tohether with butter and season with salt and pepper.
For the skewers cut the zucchini in very thin slices, sprinkle with salt, let in steep for 10 minutes and dab it dry. Rinse the fish with cold water, dab it dry and cut it into 2-3 cm dieces. Pin the fish dices together with the zucchini on 4 (or 8) skewers. Fry the skewers with olive oil in a coated pan on all sides. Season with salt and chipotle powder.
Clean and wash the rocket salad and dab it until its totally dry. Heat up the oil in a big pot until 175°C/350°F and fry the rocket salad for 30 seconds in small amounts. Let the excess oil dripp off on kitchen paper and sprinkle with salt.
Serve the rocket together with the skewers and the soup.
Nutritional information
Energy: 420 kcal/2010 kJ
Protein: 23 g
Carbohydrates: 17 g
Fat: 26 g