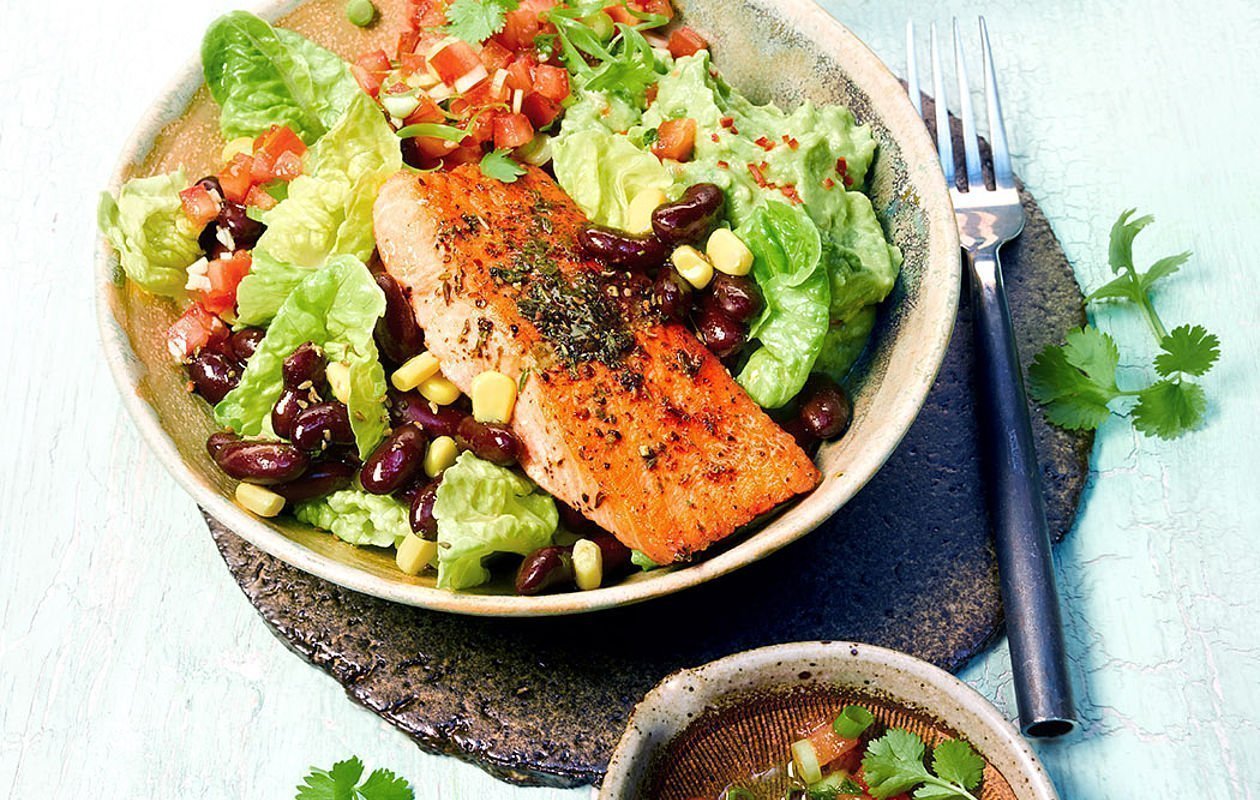 Burrito bowl with alaska wild salmon, guacamole, tomato-salsa and mexican salad
wild salmon filet
Preparation: 35 min
Ingredients salsa:
4 plum tomatos
4 spring onions
1 garlic glove
1 bunch of coriander, alternatively leaf parsley
60 ml olive oil
black pepper
Ingredients guacamole:
Ingredients salad:
2 mini-romana lettuce
100 g corn, dripped off
150 g kidney beans, dripped off
½ tsp. aniseed (optional)
Ingredients fish:
each ½ TL black pepper seeds, oregano, thyme, chili und sweet paprika
4 pieces alaska wild salmon each 125g
Preparation
Take the frozen alaska salmon filets out of the deep freezer on time and let them thaw.
For the guacamole: Wash the limes with hot water then dry them. Grate the rind of the limes and squeeze the juice from both. Half the chili lenghtwise, take out the seeds and finely chop it. Peel the avocados, remove the stone, mash with a fork and add lime juice, lime zest, chili and salt.
For the salsa: wash the tomatoes, remove the seeds and chop them in small piece. Clean the springe onions and cut very finely together with the garlic. Pull off the leafs from the coriander stalks– put some leaf tips aside-and chop the rest coarsely. Mix all together with 30 ml of lie juice, 20 ml olive oil and season with salt and pepper.
For the salad: Wash the lettuce, spin-dry it, pluck it bite-sized and add lime juice, 20ml olive oil, salt and if desired aniseeds.
For the fish: Grind the spices in the mortar but not too fine. Wash the salmon filets with cold water, let it dry, season it with the spices and coat it with the olive oil. Just before serving simmer the fish for 3 minutes in a grilling pan on both sides, then add the salt. Serve together with the salad, the guacamole and the tomato-salsa in a flat bowl.

Nutritional information
Energy: 520 kcal / 2180 kJ
Protein: 30 g
Carbohydrates: 15 g
Fat: 37 g