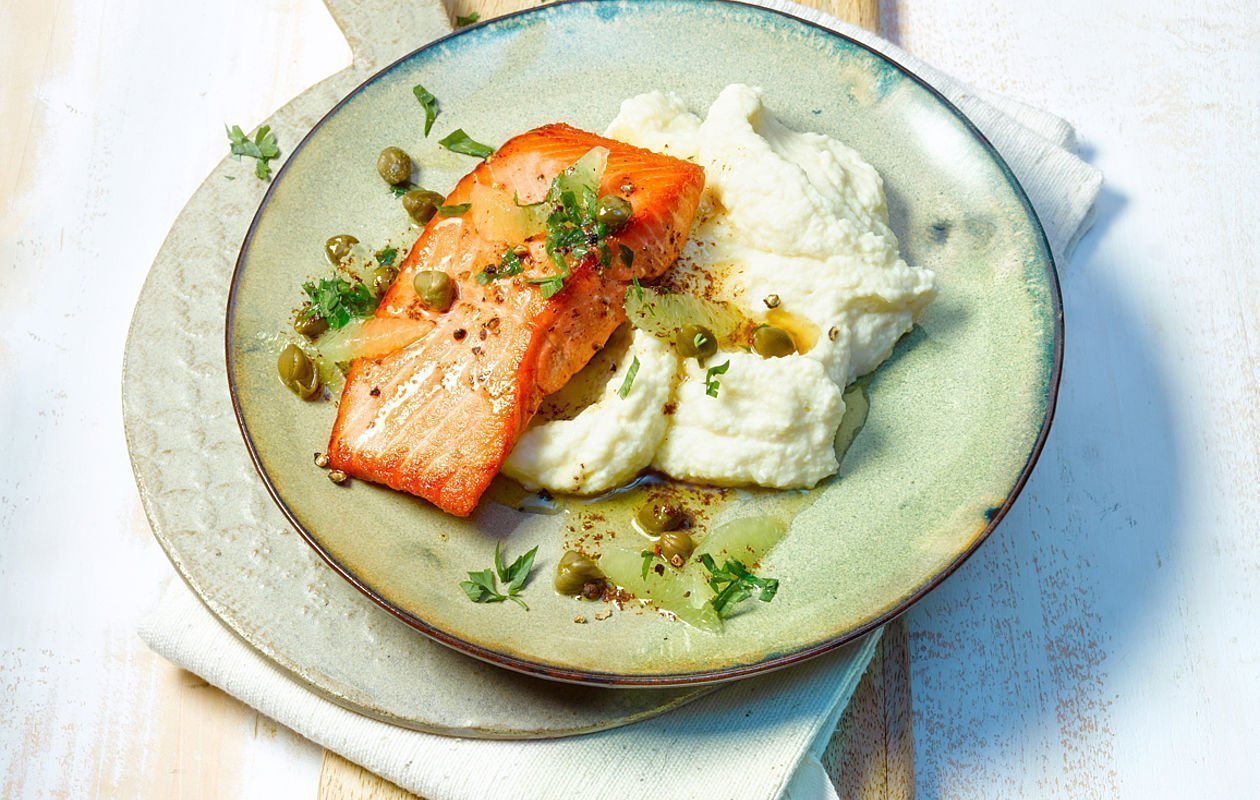 Fried alaska wild salmon with creamy celery puree and lime-caper-butter
Wild salmon filet
Preparation: 20 min
Ingredients celery puree:
800 g celeriac
salt
sugar
lemon juice
175 ml cream
150 g crème fraiche
Ingredients fish/butter:
4 limes
½ bunch of leaf parsley
4 pieces alaska wild salmon each 125 g
20 ml olive oil
black pepper
80 g butter
60 g capers
Preparation
Take the frozen alaska salmon filets out of the deep freezer on time and let them warm up.
Peel the celeria, cut it in small pieces and cook it till it´s soft in a pot with few water, salt, sugar and a little shot of lemon juice. Place the celeriac in a sieve, let it drain and cool down. Squeeze the celery-pieces carefully with a kitchen towel. Just before serving cook the cream with the crème fraiche and add the celery-pieces. Puree all the ingredients at least 5 minutes in a food processor. Season with salt, sugar and lemon juice.
For the fish, peel the limes completely and cut them into fine slices.(alternatively take out the filets, squeeze the limes and cover the filets with the lime juice). Pick the parsely leafs from the stalks and chop them coarsely. Rinse the salmon filets with cold water and sear them in a big pan with oil at a high temperature on both sides. Afterwards season them with salt and pepper while they are still in the pan.
Let the butter brown in the pan and then add the lime slices as well as capers. Put the fish back in the pan with the butter sauce and let it steep on the switched off stove. Serve together with the celery-puree and the parsely.

Nutritional information
Energy: 740 kcal / 3100 kJ
Protein: 29 g
Carbohydrates: 6 g
Fat: 65 g