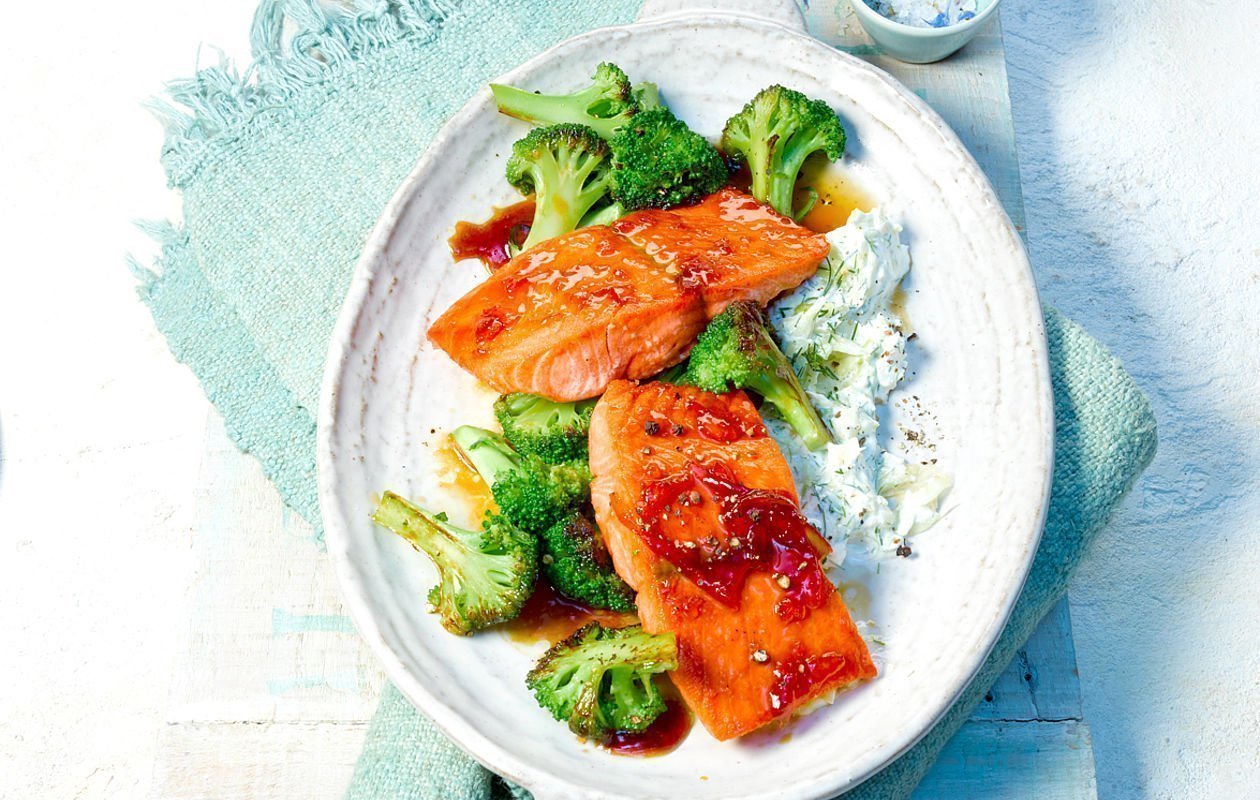 Glazed alaska wildsalmon on fired broccoli with fennel-zaziki
Wild salmon filet
Preparation: 35 min
Ingredients zaziki:
200 g fennel
salt
1 fresh garlic glove
150 g whole milk yoghurt, preferably greek
150 g cream quark
30 ml olive oil
black pepper
Ingredients fish:
4 pieces of alaska wild salmon each 125 g
80 ml soy sauce
50 g butter
100 g orange jam
Ingredients vegetables:
600 g broccoli
30 ml olive oil
20 g butter

Preparation:
Take the frozen alaska salmon filets out of the deep freezer on time and let them warm up.
Clean the fennel for the zaziki and coarsely grate it, add a little bit of salt and let it rest for 3 minutes. Then carefully press out the water. Meanwhile chop the garlic in small pieces and add the fennel, the yoghurt, the quark as well as a little bit of olive oil and season it with salt an pepper.
Preheat the oven on 200°C/390°F (top heat). Rinse the salmon with cold water and dry carefully. Add pepper and but it in a ovenproof baking tin. Shortly heat up the soy sauße, the butter and the jam and pour it over the salmon. Let it cook for 12-15 minutes in the center of th oven thereby repeatedly brushing the salmon with the brew.
Meanwhile clean the broccoli, part it in florets and halve them or cut them into quarters lengthwise. Sauce them in a large pan with olive oil at medium heat for 10 minutes. At the end add the butter and season it with salt and pepper. Serve together with the salmon and the zaziki and garnish it if desired with the fennel greens.
Nutritional information
Energy: 700 kcal / 2940 kJ
Protein: 37 g
Carbohydrates: 19 g
Fat: 51 g