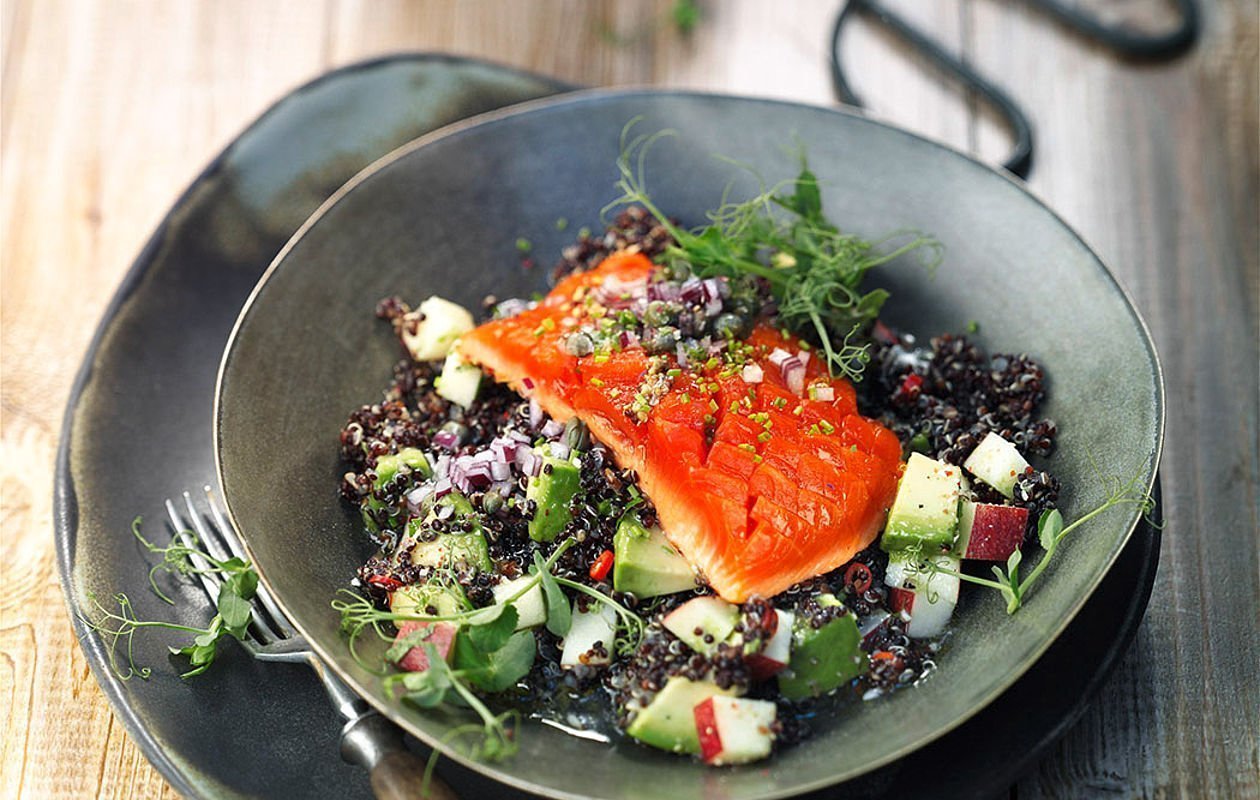 Grilled alaska wild salmon tartar on black quinoasalad
wild salmon filet
Preparation: 45 min
Ingredients salad:
200 g black Quinoas
10 ml olive oil
1 ripe avocado (preferably from the type"Hass")
75 ml lemon juice
200 g apple
1 red chili pepper
5 springs of mint
salt
Ingredients fish:
50 g red onion
½ bunch of chive
20 g fine capers
20 g coarse mustard
30 ml olive oil
4 alaska wild salmon filets each 125 g
salt
lemon pepper
20 ml lemon juice
Ingredients garnishing:
1 patch pea shoots, alternatively garden cress or watercress
Preparation
For the salad: Roast the Quinoa with 10ml of olive oil in a pan stirring continuously. Add 300 ml of water bring to boil and let it simmer covered with the stove switched off. Meanwhile remove the stone and the skin from avocado and apples, dice them and drizzle the lemon juice on top. Halve the chili peppers, take out the seeds and chop them finely. Pull off the leaves from the mint stalks and cut them into small pieces. Mix all the ingredients for the salad and season it with salt and lemon juice.
For the fish: Chop the onions, the chive and the capers into small pieces. Mix the mustard with 20 ml olive oil. Wash the fish with cold water, let it dry and make 7-8mm deep, crosswise cuts on one surface. Spread the oil on the other side and season with salt and lemon pepper.
Just before serving cook the seasoned side in a very hot grilling pan for 30 seconds and prepare it with the cooked side on the plate. Season the upper side of the fish filet with salt, lime juice, red onion, mustard-oil, chive and capers. Serve together with the quinoa salad and the pea shoots.
Nutritional information
Energy: 720 kcal/3020 kJ
Protein: 38 g
Carbohydrates: 37 g
Fat: 46 g