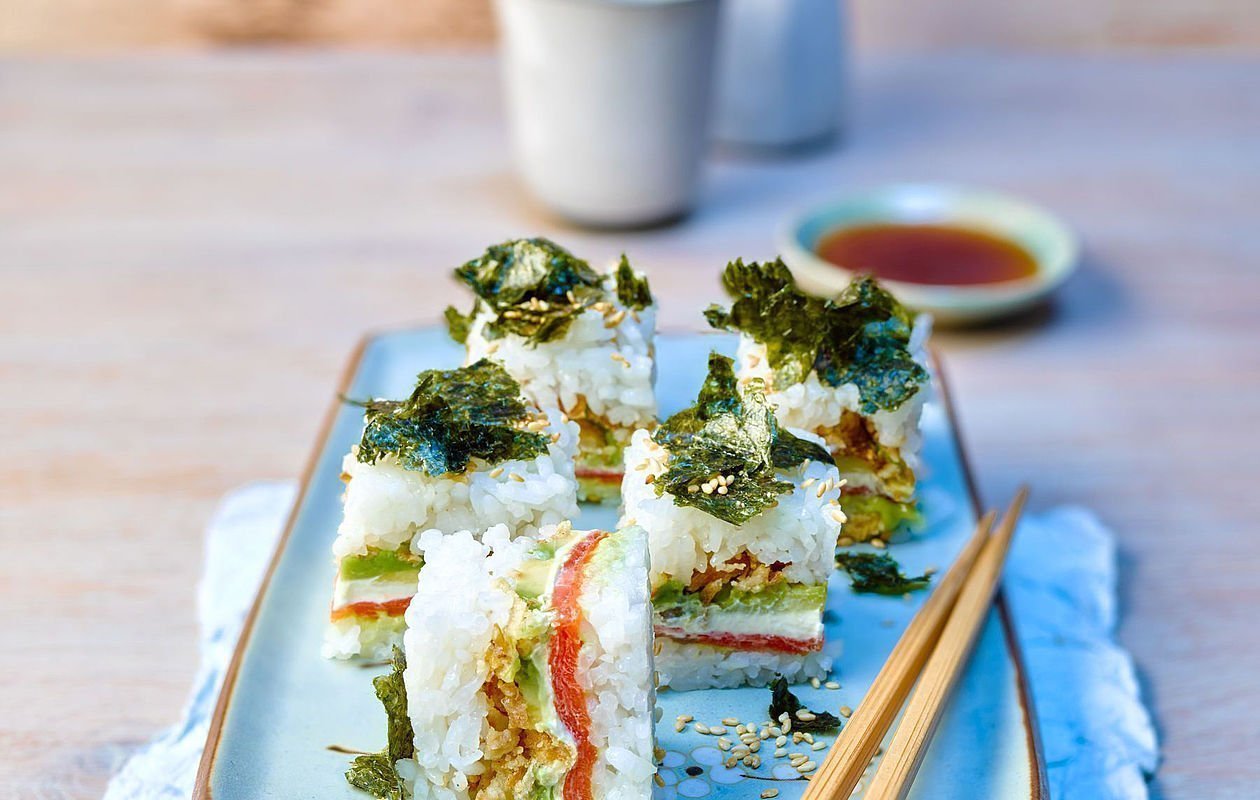 Stacked wild salmon sushi
smoked wild salmon
Preparation: 60 min
Ingredients Dip:
30 ml sake
45 ml soy sauce
45 ml lemon juice
10 g icing sugar
Ingredients rice:
300 g sushi-rice
50 ml rice vinegar
40 g sugar
0.75 tsp. salt
Ingredients filling:
2 avocados, preferably of the "Hass"-type
30 ml lime juice
30 g ginger, fresh
3 tsp. wasabi powder
300 g cream cheese
227 g alaska wild salmon
20 g fried onions
Ingredients garnish:
30 g sesame seeds
2 nori leafs
Preparation time
60 min, without waiting period
Preparation
For the dip, bring the sake shortly to boil, than mix with the rest of the ingredients for the dip.
Wash the rice thorough in a sieve and than let it soak for 30min in cold water. Let the water drip of and cook the rice with 300ml of water in a lidded pot on the highest level. Remove the pot from the heat and allow the rice to draw and cool down for further 15 min. Meanwhile heat up the vinegar with the salt and sugar and stir it until the sugar has disolved. Space out evenly on the rice and mix it.
Remove the core and the skin of the avocados, cut into 3mm slices and sprinkle them with lemon juice. Peel the ginger, grate it finely and mix it with the cream cheese. Mix the wasabi powder with 3 tbsp. of cold water.
For the stacking lay out a form(approx. 25cm x 20cm) with a freezer bag. Spread half of the rice on bottom of the form evenly. Then layer the wasabi, the salmon, the ginger-cream cheese, the avocados and the fried onions on the top. Cover everything with the rest of the rice and press everything down gently. Flip the sushi-stack upside down, remove the frezzer bag and cut it with a sharp knife (better electric knife) in bite sized pieces. Keep the knife edge wet so you can cut the sushi easier.
Roast the sesame seeds in a pan without oil. Crumble the nori leafs, distribute them together with the sesame seeds on the top of the sushi and serve with the dip.

Nutritional information:
Energy: 600 kcal/2850 kJ
Protein: 26 g
Carbohydrates: 53 g
Fat: 39 g