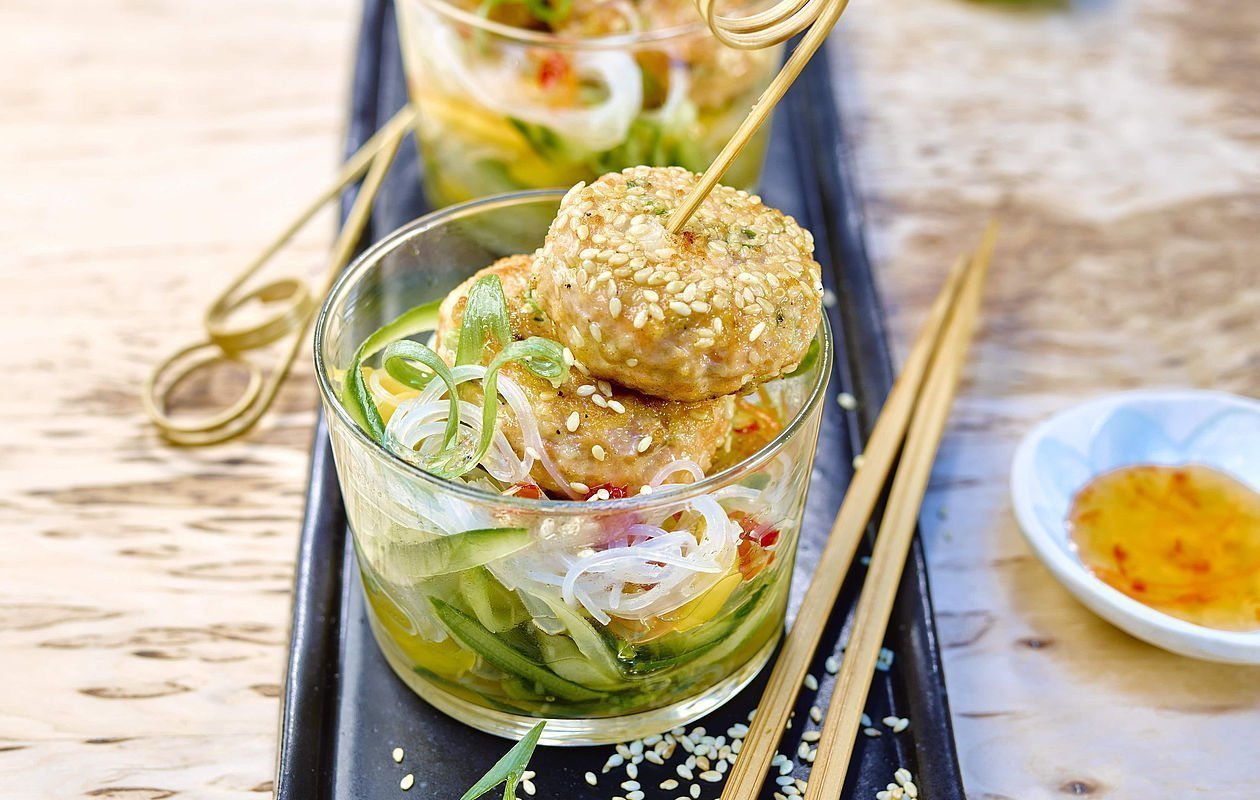 Alaska wild salmon cake with glass noodle salad
wild salmon filet
Preparation: 50 min
Preparation wild salmon cake:
1 bunch of spring onions
4 slices of toast bread
1 lime, untreated
6 wild salmon filets without skin each 125 g
1 egg yolk (M)
salt
freshly ground black pepper
60 g sesame, peeled
15 ml peanut oil
preparation glass noodles:
100 g glas noodles
salt
1 mango
1 cucumber
1 bunch of mint
25 ml lime juice
80 ml Sweet-Sour-Sauce
10 ml sesame oil
Preparation
For the wild-salmon cakes wash the spring onion and chop it into small pieces. Cut the crust from the toast and grind it finely in the kitchen maschine. Scrub the limes under hot water, grate the peel and juice it. Chop the wild salmon filetes into very small dieces and pass it through the meat grinder.
Mix the spring onions, the toast crumbs, the lime zest, the salmon and the egg yolk together and season it with salt, pepper and lime juice. From the dough you can form 8-12 small salmon cakes. Roll them in sesame and fry them in peanut oil in a coated pan for two minutes each side.
For the salad let the glass noodles soak in boiling hot water until they are al dente. Then take them out of the hot water and rinse them with cold water. Peel the mango and the cucumber and chop then into fine stripes. Pick the mint leaves from the stalks and chop roughly.
For the dressing, mix the lime juice with the sweet-sour-sauce and the sesame oil and stir it together with the glass noodles, cucumber, mango and mint, if wanted you can add a bit of salt and lime juice.
Serve the salmon cakes on the glass noodles in small glasses.

Nutritional information
Energy: 670 kcal/2810 kJ
Protein: 48 g
Carbohydrates: 35 g
Fat: 37 g